I've always wondered how we know that someone else sees the same thing we see. On one hand, people don't all see the same thing because their perception is different. On the other hand, people do see the same thing in the sense of being taught to identify objects the same way.
For example, a teacher holds up a crayon for a group of kids and tells them it's red by saying "What color? (slight pause) Red." This is done with various other stimuli over time, teaching the kids the color red, and reinforcing when they say "red." When the prompt of the teacher providing the answer fades over time, the kids are able to respond to the question with the correct answer of "red." This group of kids are taught the color red with the same stimuli, and are able to identify new stimuli when presented in an array of other colors. All the kids identify the same stimuli as being red when presented with the array.
This makes sense, but do people who are taught to identify red with different stimuli see red as something else? What if I took what I was taught to be blue and taught a group of kids learning their colors that it was pink?
While I've always wondered about this topic, and I recently experienced a situation which brought my question to life. I was working with a client who was trying to pull a red piece to a board game out of a clear bag for me. They had already pulled out the other colors and two of the red pieces, leaving one red piece and four green pieces. My client kept missing the red piece and for a moment I wondered if they had some sort of visual depth and motor dysfunction like apraxia. Next, they pulled out all the pieces, held their hand out to me and asked if the pieces were red and green. I asked them if the pieces all looked the same, to which they said yes,but they thought certain ones were red and others were green and then pointed them out to me. They were correct as they had pointed out the pieces I knew to be red and green. I asked them to look at some pictures and pulled up images typically used to test for red/green colorblindness. 
They reported not being able to see the images in the center of the circles at all. I told them what the picture in the center was and they still said no. I finally showed them one that was blue and red, and they reported being able to see the numbers in the middle, which they shouted out to me with joy.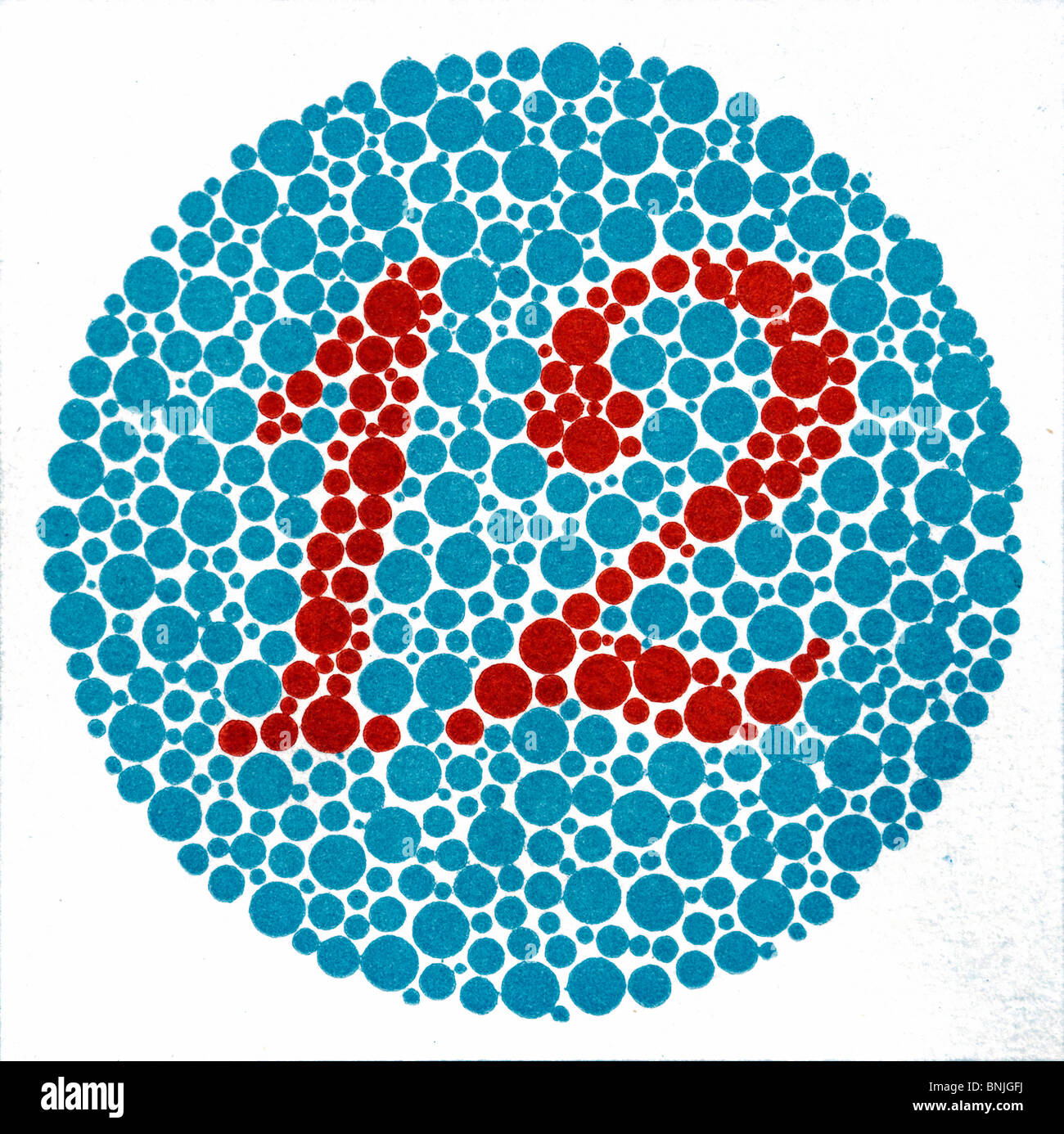 After doing some research, people see color differently because of the cones in their eyes. Whoa! It's like we talked about that in class or something… It is, however, way more complex than what we have covered. Those with typical color vision (trichromats) tend to prefer blue hues the most and yellow-green hues the least, but that is not always the case. There are also two categories of red-green dichromatic vision: protanopes and deuteranopes. Protanopes perceive red as a darker-yellows and deuteranopes perceive red as lighter-yellows, however they both prefer saturated yellows.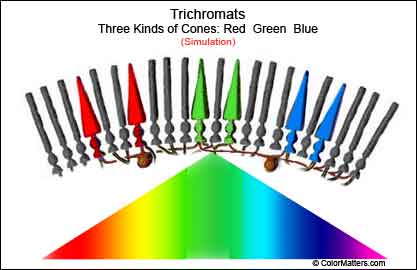 https://reader.elsevier.com/reader/sd/pii/S1364661315001990?token=8907E4F0BFC0230172EA3CE6C2EECD3EE053DAB15B5FBC985BDFA29E84A9DDACB267272010E7399F1796A3B41E5F16C3
While top-down processing works its magic by telling us what is what based off of what's been taught and experienced, bottom-up processing tells us what we like and dislike when it comes to color based off what information is being processed through the cones in our eyes. So, while we are taught to identify something such as color the same way, we have the cones in our eyes and bottom-up processing to thank for making our preferences different and even unique.
Additional readings:
https://anthrosource.onlinelibrary.wiley.com/doi/pdf/10.1525/jlin.1996.6.2.223?casa_token=rJQxQUwHxaEAAAAA%3ARZ5wg-BqF_he5A8DMAxZDlJhwiSBo6Gj9w770lPAkedVN0HjbtrBF910WrWxU1H2YLU65S2O_xDKUDk
http://citeseerx.ist.psu.edu/viewdoc/download?doi=10.1.1.182.4318&rep=rep1&type=pdf