During the lecture about decision making, I knew that the monthly blog post was coming up and was trying to think of ways to connect the material to real-life so that I'd have something substantial to write about. Then, I thought of the "choose your own adventure" trope that often appears in books and various video games, entertainment that is solely based on making decisions, and I wondered "what causes people to decide what"? Why do people decide certain things when it comes to this entertainment? The decisions don't affect them personally, but their decisions still must be motivated by something.
[CAUTION: CONTAINS SPOILERS]
I recently watched a playthrough of this game that I think has very good examples of things that we talked about in class. The game is called "Until Dawn", and follows a story of eight friends who become trapped on a remote mountain during a snowstorm, and they become hunted by what they suppose is a serial killer of some sort. The player then must switch between the perspectives of each character and make decisions to progress through the storyline, and the object of the game is to survive "until dawn".  These decisions cause what the game calls a butterfly effect, which is an action that will affect your ability to make certain decisions in the future.
There is one instance, in particular, that is a very good example of framing. There is a scene where a character, Mike, finds a machete, but when he picks it up, his fingers get caught in a bear trap. He can then use the machete to either cut his fingers off or open the bear trap. Opening the bear trap will break the machete down to its handle, but cutting his fingers off will leave him with a weapon to defend himself later on in the game. At this point in the game, the player is faced with a loss. In this case, the loss of fingers. Players tend to be more risk-seeking, as in, they risk losing their only weapon so that they don't have to lose their only weapon, however, this is the poorer choice that leaves you with less utility, in a sense.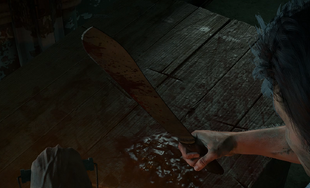 Later on in the game, this machete can be used to cut away the restraints of another character, Sam, who ends up tied to a chair by the serial killer who is hunting them, and then again when Mike is attacked by a wendigo. The decision of opening the bear trap leaves you with less utility because the loss of Mike's fingers doesn't otherwise affect gameplay. He can still do everything that he needs to do, it is simply the idea of losing the fingers that is offputting to most players. So, why then would people choose to save the fingers, when cutting them off is the more rational choice? The answer is negative framing. The choice with more utility is framed as a loss, which people tend to be aversive to, and instead, they choose something that leaves them less functional.
However, wouldn't they be losing the machete? Why isn't that loss held to as high a standard as losing fingers? My theory to this is that they encounter the conflict and must decide immediately on gaining the machete. They have not yet experienced its uses, and have had it for a very short amount of time, whereas fingers are a convenient part of the body in real-life, and most people can imagine how difficult life would be without them. However, most people have not encountered the need for a machete in their personal lives, so they have a more detached opinion of whether they have it in the game or not, whereas losing fingers is relatable and invokes empathy.