The term cocktail party effect was stamped by Colin Cherry, a British Psychologist. He conducted experiments to figure out how people listened. One experiment he had different overlapping messages that were recorded and the participant had to focus on one of the messages. The one message the participants focused on- had to written down. When concentrating enough the participant could write the message down.
The cocktail party effect is a psychological process that affects one's auditory attention. You have the ability to focus attention on a particular stimulus while filtering all of the other stimulus around. This is the same way a person at a party can focus their attention on a single conversation in the no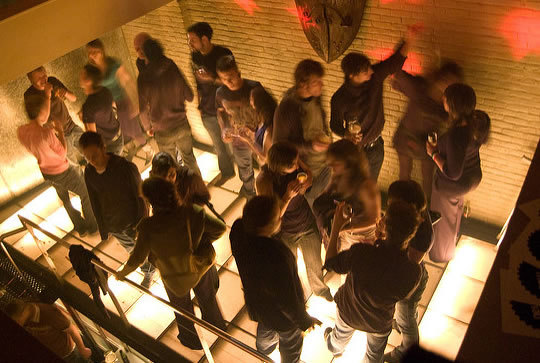 isy room. I would compare this to being in the U.C. and trying to hold a conversation with a professional or a family member over the phone. We have the one stimulus that we focus on (the conversation with the professor or family member) and filtering out the surrounding noises (conversations, the sounds of phones and music). This process exercises your selective attention.
This video goes over the process and different sounds that go into affect for the process. He shows two different outputs and two different microphones. The microphones have the sounds/sources of noises and conversation. And the outputs applies an algorithm to the microphones. He later goes over the algorithm in the video but I won't go into that.
This process basically explains my life – in college and at home. At college, there is someone constant talking to somebody about something no mater where you are on campus. You either listen and focus on your conversation or listen and focus the conversation happening around you. Whether someone talking to you or not – the process is being applied to the situation. You are still focusing on a single thing and blocking out the distractions. At my house is the same thing- a person is always talking.
http://awesci.com/the-cocktail-party-effect/